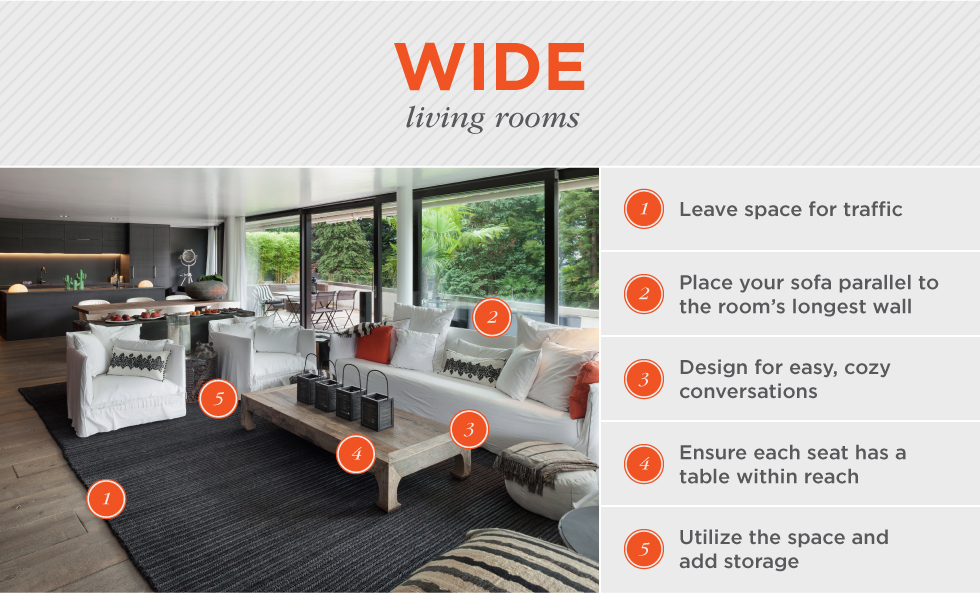 1) Leave space for traffic
In a slender room, it's especially important to allow for a walking path. Plan for at least two feet between large pieces of furniture like sofas and chairs. Make sure there's plenty of space at the entryways, so the layout feels inviting rather than bottle-necked.
2) Place your sofa parallel to the room's long wall
Open up your living room by placing your sofa lengthwise down the long part of the room. Depending on your room layout, this may be up against a wall or floating more toward the center. This arrangement makes the room feel spacious rather than cramped.
3) Design for easy, cozy conversations
In a long room, it can feel challenging to have close knit conversations. To make this possible, arrange your seating to be less than eight feet apart from each other. If you have an extended room, you can even create two conversation spots. Your second conversational space might consist of a small table and comfortable sitting chairs.
4) Ensure each seat has a table within reach
Imagine stretching across the room to set down a magazine or glass of wine. Make the space more comfortable by incorporating coffee tables and end tables, allowing a flat surface to be accessible from each spot.
When arranging your coffee tables, ensure there's 14-16 inches between it and the seating for ample walking space. Mix circular table designs with square and rectangular shapes for an energetic vibe.
5) Utilize the space and add storage
Take advantage of your large living room with pieces like wall-to-wall entertainment centers and bookshelves. You can even add ottomans and coffee tables with hidden storage and extra drawers.