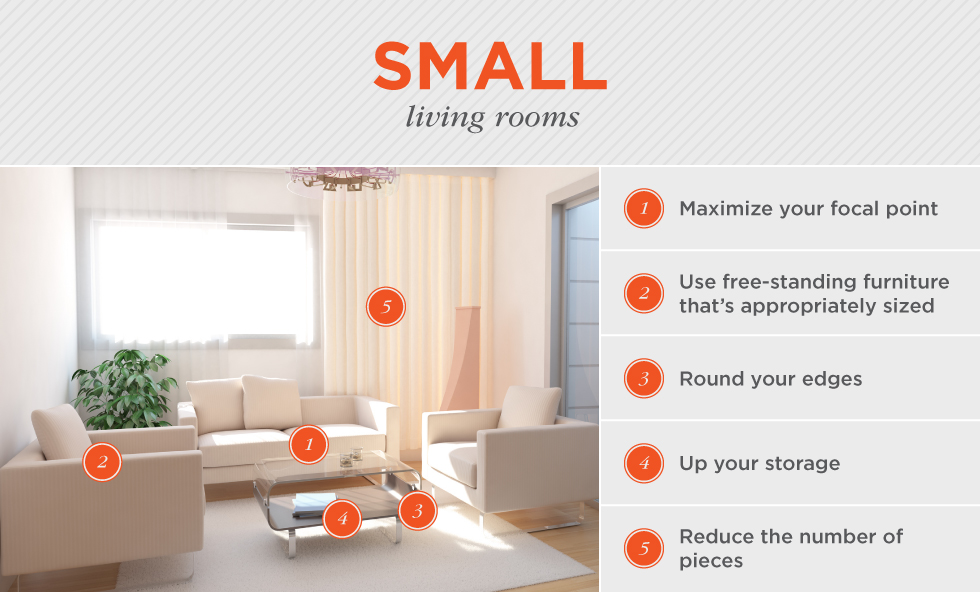 1) Maximize your focal point
Whether your living room boasts a flat screen TV, sizeable windows or a cozy fireplace, angle your main furniture in that direction to highlight the feature. This layout design immediately gives your space continuity and makes people feel right at home.
2) Use free-standing furniture that's appropriately sized
Choose smaller-sized furniture, transparent tables and clean cut designs like sofas with no skirts. Use furniture that is raised, not flush with the ground. By making these changes, you'll breathe extra space, energy and visibility into your otherwise small space.
3) Round your edges
Because open area for walking and moving is at a premium in a tighter room, choose rounded tables over sharp-cornered ones. Options include drum tables, oval coffee tables and circular end pieces.
4) Up your storage
Find furniture with hideable storage like ottomans and sofas that offer compartments underneath the cushion. A clutter-free space is more relaxing and doesn't distract from your room's style and decorations.
5) Reduce the number of pieces
Avoid making your living room feel tight and cramped. Limit the furniture you place in the room, and pull in extra chairs only when you need them. With less furniture, the room will have more open energy and better traffic patterns.